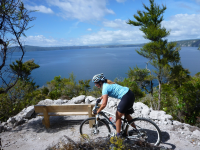 Adventure Shuttles, Taupo
Your Hosts: Garth and Angie London (Whakaipo Lodge)
We love helping people explore our beautiful place. We provide trail transport, bike hire and luxury private charter tours. Experience the scenic & adventure trail icons of the Central North Island with Kiwi outdoors enthusiasts.
We have DOC & Bike Taupo concessions for the Great Lake Trail, Tongariro River Trail & Tongariro Alpine Crossing to name but a few. We can also share the little known gems of our region if your guests want to get away from the crowds.
For travel agents we have created fabulous, all inclusive, commissionable packages for hiking, biking or sight-seeing in the Central North Island. Please contact us for more information or to provide a tailored service just for you.
At Adventure Shuttles we are passionate outdoors folk who have biked, hiked and climbed extensively in New Zealand and overseas. Kiwis with over 40 years experience exploring the Central North Island, we live at the end of the Great Lake Trail near the shores of Lake Taupo at Whakaipo Bay. (We also own and operate award-winning Whakaipo Lodge.)
Click here to check out 100% Pure New Zealand's latest promotional video of the Great Lake Cycle Trail featuring Adventure Shuttles & Whakaipo Lodge.
Contact:
Garth & Angie London
a. 1/504 Mapara Road, Acacia Bay
p. +64 (0)22 547 0399
e. info@adventureshuttles.co.nz
w. www.adventureshuttles.co.nz