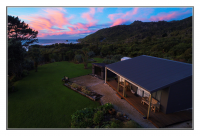 Breakers Boutique Accommodation, West Coast
Your Host: Jan Roberts
Breakers Boutique Accommodation is an absolute beachfront bed & breakfast on the West Coast's Great Coast Road 14kms north of Greymouth and 30kms south of Punakaiki and the pancake rocks. Set in 2 acres of native bush and landscaped gardens Breakers overlooks the Tasman Sea with private access to a remote West Coast beach right in front with rock pools, mussel beds and starfish.
There are four guest rooms all with ensuite bathroom, balcony access and fantastic sea views. Guests can lay in bed and watch the rolling surf and be lulled to sleep by the sound of the breaking waves. Your host Jan is a New Zealander who enjoys sharing her knowledge of the region with her guests.
Breakers is proudly Qualmark Rated Gold 4 * Plus Boutique & Lodge and takes great pride in their sustainability efforts and care of the environment and community.
Breakers Boutique Accommodation is a great place for guests to base themselves to make the most of the region with numerous bush walks and biking options including The West Coast Wilderness Trail and Paparoa Track. The glacier region is an easy 2 hour drive to the south and with the Great Coast Road at their doorstep - named one of the top 10 coastal drives in the world for variation of beach walks, rock stacks and native bush walks.
We look forward to welcoming our guests and sharing our little slice of paradise.
Contact:
Jan Roberts
a. Nine Mile Creek, SH 6, 1367 Coast Road, RD, Runanga
p. +64 3 762 7743