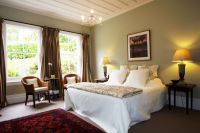 Cobden Garden, Napier
Your Hosts: Rayma & Phillip Jenkins
Cobden Garden is the perfect bed and breakfast retreat in Napier. Offering a warm welcome and generous hospitality in an elegant colonial villa. Traditionally decorated but with modern facilities to provide for your every comfort.
Immerse yourself in the history, in the tranquil garden and enjoy the song of the many birds who make this established garden their home.
Located high on Bluff Hill with extensive views, Cobden Garden is just a 12-minute walk or 3-minute drive from the heart of Napier City in Hawke's Bay, New Zealand.
Contact:
Rayma & Phillip Jenkins
a. 1 Cobden Crescent, Bluff Hill, Napier
p. +64 6 834 2090