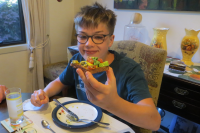 Fothergills on Mimiha
Your Hosts: Bev & Hilton Fothergill
For everything under the sun, visit Whakatane, take a trip to White Island, and stay in our cosy, friendly accommodation, Fothergills on Mimiha.
Situated just off SH2 halfway between Te Puke and Whakatane where the road runs by the sea, we are in an ideal location for travellers who want to
See real 'heartland New Zealand at our rural property with farmland surrounds and our beautiful garden.
Be central to popular places to visit; Rotorua, Tauranga/Mount Maunganui, Whakatane and Ohope beach.
Take a trip to the famous Motohoura (White Island). This is the most popular activity for our guests, especially those from overseas.
Enjoy peace and quiet away from traffic noise but less than a kilometre from the main road (SH2) and the beach, and marvel over our pristine night skies.
Enjoy our home-grown, home-made food. Our breakfasts are always 'delighters' and draw comments from everyone.
Our property is the home we have lived in for 54 years, rebuilt in 2001 and adding the purpose-built B&B suite. The guest rooms are upstairs, comprising two bedrooms and a small kitchenette, sleeping up to 4 in one group only. The bathroom is downstairs but private to this unit, with separate private access. It is separated from our house by a covered carport where our guests park their cars.
We have been hosting for 17 years and in that time have had several awards including AA 'Spirit of Hospitality' (finalists 2009 – 2012, and winners in 2010), winners over the years for our garden from 'Pride Whakatane' including 'Best Overall Garden, Best Rural Garden and last year "Most Prestigious Garden' for the second time. I also hold a 'Safe Food Handing' certificate done in conjunction with the Open Polytechnic's 'Hosted Accommodation Package', for which I also hold certification.
The success of our business in based on our friendly, welcoming attitude to our guests. Most call it a 'home-away-from-home'. We enjoy our guests and make an effort to always satisfy their desires, and to delight and surprise them.
Because we are out of town, we will cook dinners if given enough warning. Regulations prevent us using our home-grown meat, so we have to buy. I usually cook chicken, or we barbecue chops, steak etc and serve with home-grown salads and vegetables and we can do vegetarian options. We are also preservers and have extra-special treats to offer for desserts (e.g. Ruby-roasted Quinces, Figs in lemon & ginger). In addition we have a huge variety of home-grown & home-made jams available for breakfasts which are extremely popular with Europeans, and which are available for sale in my little shop.
For the comfort of our guests we use natural bedding, sustainable, good quality products. We also maintain a Facebook page and have 875 likes.
Our motto: 'Rural accommodation with style – and a smile'!
Contact:
Bev & Hilton Fothergill
a. 84 Mimiha Road, Matata, Whakatane
p. +64 7 322 2224