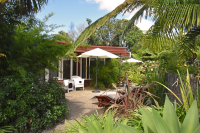 Moon Gate Villa
Your Hosts: Rob Cottrell & Lionel Chambers
The Villa
Passing through a 2.5 metre wide solid wood door, guests are greeted by a waterfall tumbling into the stream that flows the length of the atrium entrance. Moon Gate Villa was designed by a European architect for successful Mills & Boon romance novelist, Robyn Donald. Cupid's bow forms the shape of the house, and the arrow inspired terrace pergola points towards the heart of the Moon Gate sculpture over the sub-tropical garden ponds. The Villa has on display a number of Maori carvings and Moon Gate's Maori host Lionel's whanau taonga. It is located 3 minutes from Kerikeri village, and within walking distance are the Old Packhouse markets, the Kauri craft workshop, and Makana chocolates & café.
The Accommodation
All rooms have private entrances that open out into the gardens. As well as high quality Internet Wi-Fi, all rooms have phones with complimentary calls to landline phones within New Zealand, and can also be used to contact the host at any time.
Each room is decorated with modern, understated elegance, featuring modern TVs with complimentary access to our in-house movie service, and Netflix. In-room dining is possible.
The Villa lounge is for the exclusive use of guests, and the cottage also offers a unique indoor/outdoor lounge.
Location & Attractions
Tour companies will collect guests from our front entrance for both Bay and Cape Reinga tours by arrangement.
Kororipo Heritage Park—5 mins
(Historic Mission house & Stone Store)
Rainbow Falls—10 mins
Puketi Kauri forest walks—20 mins
Waitangi Treaty Grounds—15 mins
Paihia wharf—20 mins
Kauri Cliffs golf course—25 mins
Cape Reinga—2 hrs 30 mins
Tane Mahuta. Waipoua Forest - 1hr 30min
Contact:
Rob Cottrell & Lionel Chambers
p. +64 9 929 5921