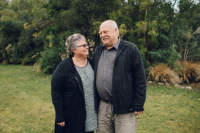 Riverstone House Bed & Breakfast, The Downs, Geraldine
Your Hosts: Jenny & Ken Jordan
Riverstone House Bed & Breakfast is an ideal over night stop after arriving at Christchurch International Airport if travelling to Lake Tekapo, Wanaka and Queenstown.
Also an ideal final night before leaving the South Island, New Zealand.
We are approx 2 hour drive to the airport.
Many guests are also stopping with us if going to the University Canterbury Mt John Observatory in Tekapo.
Our downstairs accommodation offering a lovely queen suite with ensuite and own outside terrace area.
Our upstairs retreat / apartment with super king bed, separate living room, large bathroom with both bath and separate shower which overlooks the landscape giving the feel of exclusion.
Continental and cooked breakfasts are available in our dining area from 7.30am each morning until 8.30am to all guests or by arrangement.
Contact
Jenny & Ken Jordan
a. 91 Pye Road, The Downs, Geraldine
e. jennyandkenjordan@xtra.co.nz
p. +64 3693 8332