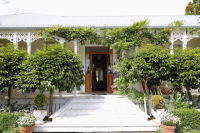 Villa Walton - Premium Bed & Breakfast, Matamata
Your Host: Glenn Gairdner
Villa Walton offers premium accommodation within the highly sort after location of Matamata, close to the Hobbiton Movie Set. Accommodation in Matamata is in demand due to the many attractions within the region. Villa Walton is just 60 minutes' drive to Rotorua, 40 minutes to Tauranga, 45 minutes to the Hamilton Gardens and 90 minutes to the Waitomo Caves.
Villa Walton offers three luxury ensuite rooms inside the main homestead all with rural and garden views. Homestead rooms offer tea/coffee facilities, personal fridge/freezer and private seating areas to relax. We also offer a private one bedroom self contained Cottage on the property.
Villa Walton offers a spacious guest lounge plus dining room with bar, evening meals are available upon request.
Villa Walton is set in the quiet historic village within Matamata, part of the beautiful Waikato. The villa has been an integral part of the village since 1904 when a family who farmed on the property built it. Farm animals are available on the property for guests to interact with.
Contact:
Glenn Gairdner & Mark Eisig
a. 303a Walton Road
p. +64 7 888 3585