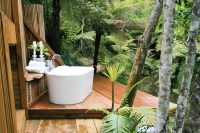 Warblers Retreat, Auckland
Your Hosts: Barb & Dave Milna
In the heart of Auckland, New Zealand there lies a hidden oasis; a romantic eco luxury retreat that lives and breathes the art of the boutique hotel experience.
The Retreat offers 5 star accommodation; a self catering Cottage and a self catering Studio so guests can maintain their privacy and independence. Warblers Retreat is located in a fully landscaped sub-tropical setting surrounded by bush, rain forest and wonderful NZ native wildlife.
Hosts Barb and Dave have fully developed and landscaped the property preserving the natural environment, adhering to an ongoing commitment to sustainable practices such as recycling, composting and growing edible food to share with guests. Warblers Retreat proudly holds a gold sustainable tourism award from Tourism NZ.
Contact:
Barb & Dave Milna
a. 8 / 361 Paramoremo Road, Albany
p. +64 9 414 4503