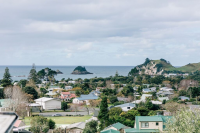 Hahei Horizon Bed & Breakfast, Hahei
Your Hosts: Peter & Kay Harrison
Open your curtains to a stunning Hahei sunrise!
Hahei Horizon Bed & Breakfast really is the ideal base for your clients. We are situated just minutes walk to lovely Hahei beach, village shops and 3 restaurants. Walk from the house or drive two minutes to the start of the world renown Cathedral Cove Walk, drive 8 minutes to famous Hot Water Beach or visit the rest of the Coromandel Peninsula.
Guests will savour the peaceful surroundings and the convenience of having everything at your fingertips. Guests enjoy stunning sea views from our three luxury, fully equipped guest suites, including ensuites, tea & coffee facilities, fridge, mini bar & all rooms have their own deck or patio to take in the sun and views.
A cooked or continental breakfast on our large deck starts guests off on their days adventures. Add to that personable and accommodating hosts and you have your ideal stay or holiday break. This is what holidays are all about!!
Your hosts:
Peter & Kay Harrison
a. 20 Grierson Close, Hahei
p. +64 7 866 3281