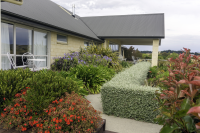 Ribbonwood Country House, Cheviot
Your Hosts: Gary Mitchell & Robert Day
Escape to the country
Ribbonwood Country House encapsulates luxury, relaxation, elegance and indulgence. It offers a place for guests to escape from the everyday pressures – relax for a weekend or a week in this delightful region of New Zealand. We are located in Cheviot which is 90 minutes drive north of Christchurch, 60 minutes drive south of Kaikoura and 75 minutes drive from Hanmer Springs; the thermal resort. Ribbonwood is the perfect place as a place to explore the delights of this region.
There are four well appointed guest rooms all with their own ensuite shower and toilet, heat pumps / air conditioning, smart TVs, comfy chairs and tea and coffee making facilities and patios to the outside. The house also has a library and dedicated spa room for massage treatments.
The room rates include a continental breakfast consisting of: cereals including homemade muesli, yoghurt and poached fruit (from the garden), home made bread for toast, home made preserves and home made butter. We also provide delicious croissants, juice, a selection of tea's and espresso coffee. We provide a full English breakfast on request.
The customer service experience is at the heart of Ribbonwood. We pride ourselves on offering world-class customer service and going the extra mile to ensure our guests have an enjoyable and memorable stay. The comments on Trip Advisor, Booking.com and our own Visitors book are testament to this.
Here at Ribbonwood we go out of our way to ensure a personalised greeting, ensure the guests are comfortable and provide everything they need to make their stay not only enjoyable but memorable. We are knowledgeable about the activities and places to visit in the area and can make recommendations of what and where to visit.
We tell our story and we create memories.
Contact:
Gary Mitchell & Robert Day
a. 124 Cheviot Heights Road, RD 2, Cheviot
p. +64 3 319 8823 / +64 27 635 6658
e. info@ribbonwoodcountryhouse.co.nz
w. www.ribbonwoodcountryhouse.co.nz