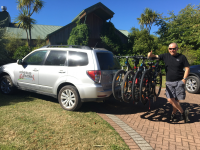 Experience the thrilling Great Lake Trail (one of NZ's Great Rides) by bike or on foot. Explore the thermal areas of the Central North Island with a knowledgeable Kiwi driver.
At Adventure Shuttles we are passionate outdoors people who have biked, hiked and climbed extensively in New Zealand and overseas. Kiwis with over 40 years experiernce exploring the Central North Island outdoors, we live at the end of the Great Lake Trail near the shores of Lake Taupo at Whakaipo Bay. (We also own and operate Whakaipo Lodge.)
We do not operate to a timetable and don't believe in working to any schedule except yours!
Our B&B Association members qualify for 10% commission when booking our transport & bike hire services for their guests.
We can arrange all you need for your adventure. Contact us today.
Click here to check out 100% Pure New Zealand's latest promotional video of The Great Lake Cycle Trail featuring Adventure Shuttles.