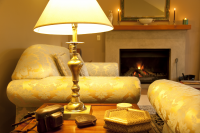 Whakaipo Lodge, Taupo
Your Hosts: Garth & Angie London
Supreme Winner of the Bed & Breakfast Association of New Zealand's Excellence Awards in both 2018 & 2016 and TripAdvisor Travellers' Choice Award recipients in 2019 & 2018.
"Whakaipo" is a Maori word meaning "to court, woo, treat with affection, cherish": your guests will certainly cherish their time at Whakaipo Lodge.
If you are looking for an authentic, Kiwi experience, look no further than Whakaipo Lodge. Our boutique lodge is perfectly positioned close to Taupo and the Great Lake while providing an idyllic, romantic sanctuary away from it all. The wine & food experience at the Lodge is truly exceptional.
Hosts, Garth & Angie London, are passionate locals with extensive knowledge and experience of NZ's great outdoors, wine and food.
Please check out our reviews for more information.
We work with some of New Zealand's top in bound operators and travel agents. Please contact us if you would like to create an agent relationship with us. We look forward to hearing from you.
For a little taste of our lodge please check out Tourism New Zealand's Great Lake Trail video featuring Whakaipo Lodge and our companion business Adventure Shuttles.
Contact:
Garth & Angie London
a. 1/504 Mapara Road, Acacia Bay
p. +64 7 378 9298
e. bookings@whakaipolodge.co.nz