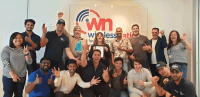 Connecting Your Bed & Breakfast
We solve connectivity challenges that arise for accommodation providers such as guest WiFi & passwords, network security, and whole premise coverage using our innovative WiFi solutions.
Adaptive WiFi pods - comes with a hassle free app to manage guest WiFi and security

Fibre & Wireless Broadband

Mobile phone services
Wireless Nation is an award-winning Kiwi telco with diverse nationwide coverage.
Watch our webinar presented by Jason Sommerville on how Wireless Nation can help connect your B&B, keep your guests happy and ensure your home and business are secure from potential threats introduced by guest devices..
Let's chat!
wirelessnation.co.nz