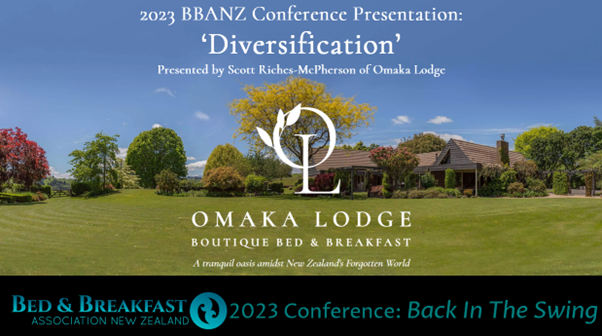 Diversification
2023 BBANZ Conference Presentation by Scott Riches-McPherson, Omaka Lodge
We are Scott Riches-McPherson and Christopher Riches, and we created and operate Omaka Lodge near Taumarunui. To give you a bit of a background, Omaka Lodge was built in 1977/8 as a private family home for a 5,500-acre sheep and beef station. We bought the house and 10.5 acres from the original owners in 2017 and set about turning it into a boutique lodge. In 2018 the games room was changed into a self-contained apartment, and in 2019 the four guest bedrooms were renovated and ensuites added. In 2022 we relocated a 1980s building onto site which is being renovated into a high-end guest cottage.
Like many B&Bs, Omaka Lodge is built upon a life and business partnership. 'Partnership' doesn't need to mean a person though, as one of the functions of the Bed & Breakfast Association is to partner with you upon your journey, offering advice, guidance, support and more. Another great part of being an Association member, is networking with other members and gaining knowledge and sharing ideas.
The journey to a B&B can bring many challenges, and visitor accommodation has suffered over the past few years. Covid has been a major factor, but others include competition, market saturation, political uncertainty and more. Ultimately, visitor accommodation is viewed as expendable, meaning consumers think 'I'd like to experience this, but I can live without it at the moment'.
But B&Bs don't have to be limited by a 'visitor accommodation' label, and don't need to be 'expendable'. With the right approach, mindset, and diversification, a B&B can become enticing, where consumers think 'this place offers something extra or unique or special, and even if I can't stay, I can still experience one of their offerings'.
Diversifying can provide a good source of alternative income, as well as be useful for marketing and publicity. Different ideas work for different B&Bs, but at here at Omaka Lodge, we have tried the following six diversifying activities:
1. Business meetings
2. Catered private functions
3. Weddings
4. Guided Tours
5. Homemade Preserves
6. Garden Tours
Let's read on to learn a little more about these diversifications.
1. Business Meetings
We realised there was a window of time between guests checking out and new guests checking in and wondered if this window could be used productively somehow. Our guest lounge and dining room were unused between 10am and 3pm, so we publicised the space locally for business meetings. Although demand was limited due to our rural location, a couple of local businesses have held meetings, and one business has become a regular.
If you have the right space, why not invite your accountant or your favourite local councilor to road test the space and see what they think?
2. Catered Private Functions
Local residents noticed we were advertising space for business meetings and started asking if they could hire the space for small catered functions for families/friends. We trialed a couple of functions and they were very successful and have now become part of our permanent offering.
A successful luncheon is as much about great presentation and lovely ambience as it is about food.

If you can't do the catering, chat to your local café about them preparing something for you.
3. Weddings
Guests and locals started asking to have their weddings at Omaka Lodge, so we brainstormed wedding package ideas and prices, and Scott became a marriage celebrant. The first wedding was an all-inclusive 48-hour package and was a great success, leading to many more boutique all-inclusive weddings.
Hosting weddings is a really rewarding extra-curricular activity, so if you have the right space, could it work for you?
If you enjoy bringing out the best in people, why not investigate becoming a celebrant?
4. Guided Tours
Sometimes there's quite a period of time between guests checking out and their transport arriving. This means guests can be sitting around for some time with nothing to do. To fill their time, we trialled 30-60 minute guided tours including driving past local landmarks and talking about them and the area's history. The tours were so successful they're now part of the contracted package with a key supplier.
If you have guests waiting around after check-out, are there simple activities that could earn you a little income while promoting your business and area?
5. Homemade Preserves
Part of our Omaka Lodge offering is a large selection of homemade jams on the breakfast table. Guests loved them so much they kept asking to buy some, so we set up a small display in the foyer as a trial. The jams all sold quickly, so homemade preserve sales are now part of our regular offering.
If you have a hobby that produces saleable goods, why not try a small display of them where guests check out? It doesn't have to be preserves, it might be baking, knitting, craft or art etc.
6. Garden Tours
Our 10+ acres grounds are a big drawcard for guests and weddings, and we started to get enquiries from people who were unable to stay with us, but who did want to tour our gardens. We started thinking about offering garden tours, but knew this could be a challenge as there are three other beautiful gardens within 12 kilometres of us, and two of those gardens are already well-known attractions. Rather than compete with the other gardens, we asked if they wanted to collaborate. They were all excited about joining forces and jointly promote all four gardens as a collective. By working together, we've maximised our budgets and efforts, and have successfully produce a website, a Facebook page and brochures, and are advertising nationally.
Are there businesses/attractions local to you that you could collaborate with to raise your profiles and cross-promote? Every extra person reached can bring extra clients to your door!
So there you go, six diversifying activities which we've tried at Omaka Lodge. Some have had more success than others, but each raised our profile and brought us new guests.
We didn't want to be seen as just an expendable B&B offering, we wanted to be seen as enticing, where people to think 'This place offers something extra or unique or special, and I'm going make sure I can experience one of their offerings'.
You may be happy with where your bed and breakfast is at, and that's absolutely fine! But if you'd like to try something more, if you'd like to try something different, diversification may be the key.
So, what's your diversifying activity going to be?
Scott Riches-McPherson, Omaka Lodge
August 2023