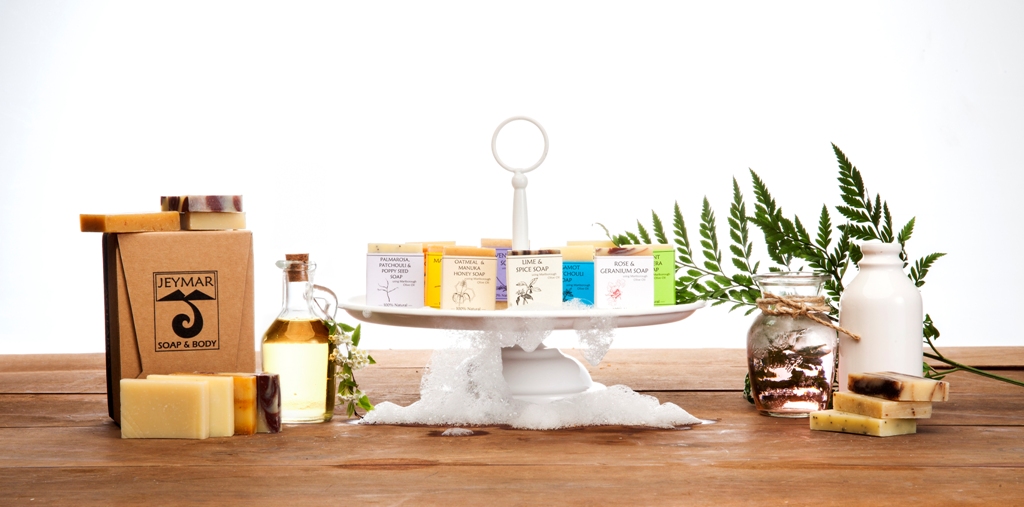 Introducing Jeymar Soap & Body
We, Richard and Jenny, founded in 1998 our business Jeymar Soap & Body and we still love to run it today. It is a boutique toiletry business run from premises on our five-acre rural home property by the Wairau River in the township of Wairau Valley, 38km southwest of Blenheim. Our setting helps with the inspiration for our natural body products – great river, great mountains (the Richmond Range is right in front of us), in a great community.
Our little shop on our premises is open most of the time, and we welcome people to come and chat with us about the soap-making process, sample the many products we have available and, enjoy our fabulous view. Also, to meet our cute black lab, Kali.
We started up the business around the time of the arrival of our two children. In those early days, everything was done in the home kitchen but, over the years, we have progressed from there to a special manufacturing facility plus our shop.
Nowadays we are fortunate to supply a wide range of top hotels/B&B's/lodges with our handmade body products, we also supply health stores, pharmacies, and more.
A large part of our business comes from our specialty of personalising the label for the customer's own business, allowing them to put their branding to the fore.
We are both heavily involved in a variety of local community groups - Richard is the Chief of the local Volunteer Fire Brigade and is also a Justice of the Peace. Jenny is involved with Blenheim Choral as a member and Secretary, and a Board of Trustee for our local historic memorial hall. On our small block, we also run free-range chickens and a few organic cattle.
Our products include as well as 10 types of body soap - hair shampoo bar, plastic-free hair conditioner bar, lotions, body wash, wheat bags, and more plus a wide range of giftware too. We take pride in using as many locally sourced ingredients as we can, and we don't use any artificial colours, fragrances, or preservatives. Just pure essential oils and ingredients from nature.
Please feel free to call us, or come and visit.
a. 33 Church Lane, Wairau Valley.
p. 03 5722 547.
Facebook: www.facebook.com/JeymarSoap
Sustainable products:
In our production processes we conserve wherever possible and have reduced our waste to near zero.
Our home and business combined give us a carbon footprint of only ½ the size of our property.
All our shipping packing is reused, and totally recyclable at the other end.
For our soaps, all wrapping is totally biodegradable and mostly we use recycled paper. The majority of the bottles that we fill are made from 100% recycled plastic.
A significant proportion of our ingredients is sourced locally thereby supporting the local economy and cutting down on shipping.
It is company policy that waste is kept to an absolute minimum: all organic matter is either composted or fed to our hens/cattle; all scrap soap is reused in the washing machine; anything possible is recycled or reused.